Information
Elf Bar ElfLiq 10ml Nicotine Salts: Exceptional Flavors, Perfect Satisfaction
Specifications:
Bottle Size: 10ml
VG/PG Ratio: 50/50
Nicotine Strengths: 10mg, 20mg
Flavor Options: 21 Varieties
Key Features:
Crafted with the same exceptional flavors as Elf Bar disposables
Available in two nicotine strengths for personalized satisfaction
Balanced 50/50 VG/PG ratio ensures smooth and satisfying vapor
Ideal for Mouth-to-Lung (MTL) vaping enthusiasts
Product Description:
Elevate your vaping experience with ElfLiq nic salts, brought to you by the same pioneering company behind the globally renowned Elf Bar disposable vape pens. These nic salts deliver an exceptional taste sensation, thanks to their use of the same high-quality flavors as the beloved Elf Bar disposables.
Experience a world of flavor diversity with ElfLiq, meticulously crafted with premium ingredients. Whether you have a penchant for classic fruit profiles or crave something more exotic, ElfLiq caters to all palates - even those who appreciate the nuances of tobacco. The result is a consistently delicious vaping experience, each and every time.
Expertly Crafted Flavors
Expertly packaged in convenient 10ml bottles, Elfliq offers a staggering 27 tantalizing flavor options. From the ever-popular Blue Razz Lemonade to the refreshing Watermelon and the delightful Apple Peach, there's a flavor to suit every preference. Plus, you can select from 10mg or 20mg nicotine strengths to create your perfect all-day vape.
Versatility and Compatibility
Compatible with popular pod system kits like the Vaporesso Xros Series and OXVA Xlim Pro, Elfliq offers maximum versatility. The precisely balanced 50/50 VG/PG ratio ensures a seamless blend of smooth, flavorful vapor - perfect for the discerning Mouth-to-Lung vaper. The nicotine salt formula delivers a quick yet satisfying throat hit.
Cost-Effective and Eco-Friendly
Make the switch to refillable Elfliq e-liquids and enjoy substantial cost savings compared to disposable options, all while minimizing waste. Experience the premium Elf Bar flavor without the expense and inconvenience of disposables. Make the intelligent choice - switch to Elfliq today.
For vapers in pursuit of exceptional nic salt e-liquid flavor, combined with convenience and affordability, Elfliq stands as the definitive solution. Elevate your vaping journey with ElfLiq Nicotine Salts.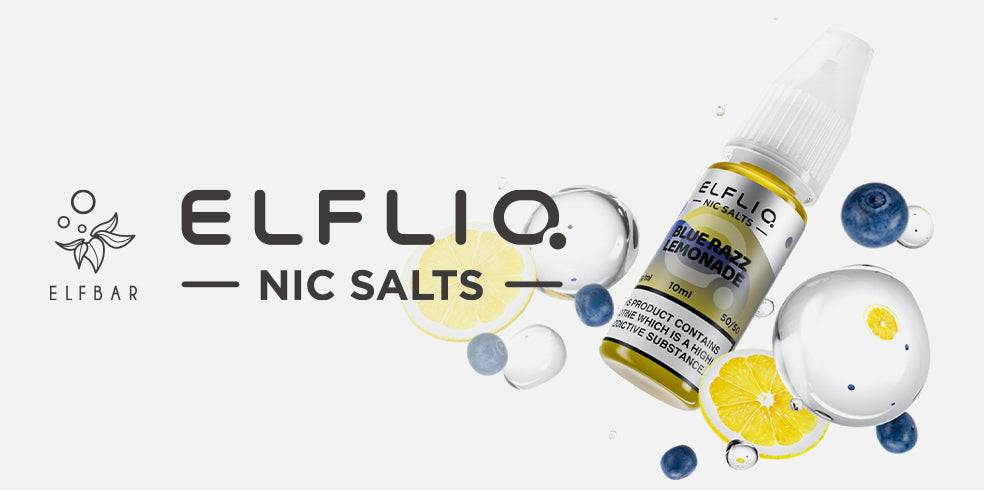 Frequently Asked Questions
Is ElfLiq the same flavor as Elf Bar?

Yes! ElfLiq is crafted by the same company as Elf Bar, featuring the same incredible nic salt flavors that made the disposable vape a world-leader. If you have a favorite Elf Bar flavor, you're bound to love ElfLiq!

What is the PG/VG ratio of ElfLiq?

All ElfLiq nic salt liquids boast a base of 50% VG and 50% PG.

Which tanks/devices is ElfLiq suitable for?

ElfLiq, with its 50/50 nic salt formulation, is incredibly versatile and compatible with a wide range of tanks and devices. If you're uncertain, feel free to get in touch with us!

Which ElfLiq flavors are most recommended?

The best flavor ultimately depends on your personal preferences. With a diverse range including fruits, drinks, sweets, mint, and even tobacco, there's sure to be an ElfLiq flavor that captivates your palate!

Who can enjoy ElfLiq vape juice?

ElfLiq eliquid caters to a diverse range of vapers, regardless of their device preference. Designed to deliver an exceptional vaping experience for both beginners and advanced users, ElfLiq offers a selection of flavors, each crafted with top-quality ingredients for a satisfying hit and smooth taste. Whether you're accustomed to an Elf Bar or another vaping device, ElfLiq guarantees a delectable vaping experience!

What are the most sought-after ElfLiq flavors?

Based on our sales data up to September 2023, the top 5 flavors are Blueberry Sour Raspberry, Blue Razz Lemonade, Watermelon, Pink Lemonade, and Blueberry. This list serves as a great starting point if you're unsure which flavor to try first, although all ElfLiq flavors are delightful in our opinion!

Can I get ElfLiq in a 100ml bottle?

No, unfortunately ElfLiq is exclusively available in 10ml bottles, in compliance with TPD regulations governing nicotine-containing vape liquids. While we understand that some customers may prefer larger bottle sizes like 50ml or 100ml, we believe the 10ml bottles provide the perfect amount of ElfLiq for an enjoyable experience. The smaller size also ensures consistent flavor and quality from the first drop to the last!

I'm having difficulty finding Elfio / Elflio / Elfliq liquid on your website. Can you assist me?

Rest assured, we don't offer a product called Elfio (or Elfiq!). If you're in search of ElfLiq, you're in the right place! The 'Q' in the logo may resemble an 'O', but trust us on this one!

When will the new ElfLiq flavors be released?

Blackcurrant Aniseed, Pina Colada, Pineapple Mango Orange, Rhubarb Snoow, Sour Apple, and Strawberry Raspberry Cherry Ice were released on Tuesday, 3rd October 2023.

What exactly is a Snoow?

Frankly, we're as intrigued as you are! We've been informed that ElfLiq's Rhubarb Snoow is inspired by Rhubarb & Custard!